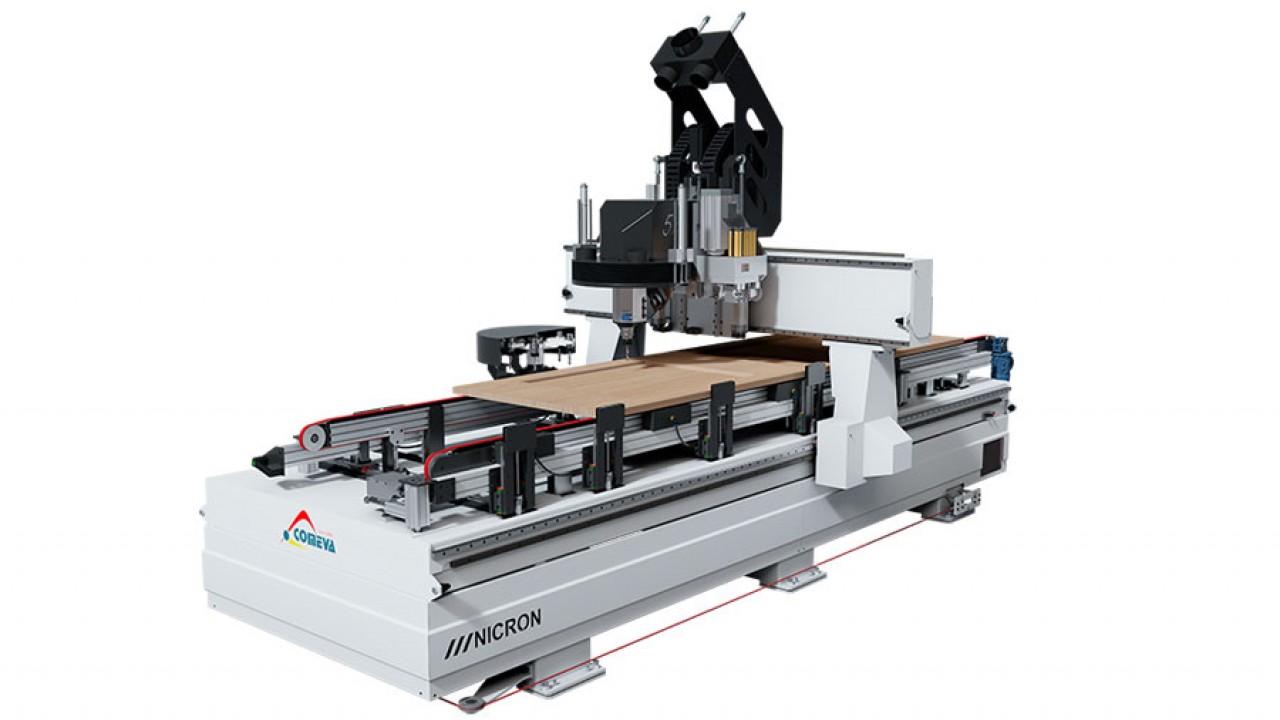 The Comeva Nicron Door 5X door CNC, available at GIMENO Maquinaria para Madera
Maquinaria Gimeno, official distributor of the main brands of woodworking machinery, presents the CNC for doors Comeva Nicron Door 5X.
This CNC for doors allows to work quickly, with precise finishes and excellent quality. 
Its main technical features are listed below:
Workgroup. The Comeva Nicron Door 5X CNC is able to perform all types of machining operations in any position thanks to its 5-axis spindle. This head consists of a 9KW Hiteco automatic tool change motor, as well as a floating head for door scoring and an optional drilling head.
Comeva Doors Software. This software is an easy-to-use tool created specifically for door machining. With pre-designed macros, the software streamlines the process of programming various machining tasks, facilitating the quick design of new machining projects and the agile handling of operators.
Reference stops. The machine consists of four retractable stops and an aluminium bar that are used to accurately align and reference the door prior to machining.
Loading and unloading system. The machine is equipped with a door loading and unloading system consisting of 2 aluminium bars with adjustable width and conveyor belts that transport the doors to their machining position and unload them afterwards.
Suction cups. The suction cups are made of a highly resistant phenolic material that allows the door to be held perfectly in place during the machining process.
Frames device. It is specially designed to hold the rebates to be machined and maintain the precision regardless of the thickness of the same or possible imperfections.
Rotating tool magazine. The machine has a rotary tool magazine driven by a servomotor for quick positioning of the tools, thus reducing the time of the change process.
Contact GIMENO Woodworking machinery, our technical specialists will explain all the details of the Comeva Nicron Door 5X CNC door machine and will advise you on how to increase the performance of your production line.