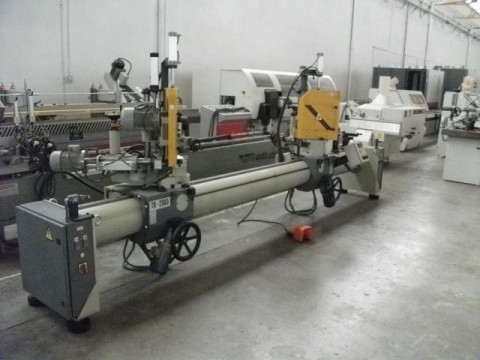 Double mitre saw with boring machine Berle second hand in Gimeno woodworking machinery
GIMENO has on its stock of woodworking machinery a second hand double mitre saw with boring machine Berle. This equipment is revised and optimized to perform a high quality work to cut and drill wood pieces.
The double mitre saw with boring machine Berle is a machine for machining wooden parts. This machinery is designed for cutting ends in both square and miter pieces, for work on moldings or door frames. With this machine you can make clean cuts of great precision in the angle that you want, getting pieces with exact ends and measurements. Likewise, this wood machine offers high performance to drill holes in parts that require drilling with total diametrical accuracy.
This machine is examined by GIMENO technicians, guaranteeing its good functioning and optimal performance in daily work. This is an equipment prepared to offer high performance in its production line. To know all the details about this Berle machine or other used wood machines contact us here.